click on the links above for details
| | | |
| --- | --- | --- |
| | General Chandlery, Spares, Sundries | |
Like most websites we may use cookies to provide a more personalised and responsive service. We may use cookies to enable our website to function more efficiently, to improve performance and to tailor advertising with our partners. If you continue you confirm you are happy to receive all the cookies from our website.
click on the links above for details
| | | |
| --- | --- | --- |
| | Chertsey Meads Marine Boatyard | |
River Thames Boats
Spares - Sales - Repair - Hire





TEL/FAX: 01932 564699

Send us a message via our new Site..... Scroll down to see more..
ITEMS for SALE - VOLVO BMC FORD - OTHER BITS AND BOBS
Click on images to enlarge

These are a selection of our boat bits - We have loads more - email or phone for your requirements
Volvo 270/280
drive steering yoke (pin type) £110.00

Spline type also available £125.00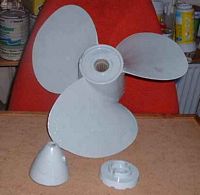 Spinner nuts, Tab washers and spacers available new and second hand




Volvo 270
drive leg only, sold as seen £450.00
Volvo 250 legs
sold as seen, were running fine when removed recently, no transom shields.£750.00 each
Volvo 280 Lift Motors
and plungers - good condition - as removed £250.00 each  (2)
Volvo 280 Exhaust riser
for V engine/290 Good condition  £150.00 each  (2)
Volvo PROPS
Various long and short hub - £75.00 to £120.00 -  Spacers to convert short to long hub.
Volvo DUO-PROPS-A7 and A4
various sets-recon.and new, from £325.00


Bowman BL180 Manifolds
for 1.5 1.8 and 2.5/2.2 BMC Diesels
New complete with heat exchanger tube stack and end caps etc.£454.00
Keel cooler versions without tube stack coolers New £285.00
Similar manifold available for Perkins and Ford all models. Contact us for best prices.

Second hand BMC 2.5/2.2 manifolds in stock.

Second hand units available price varies but around £375.00
Fenner Cush Drives.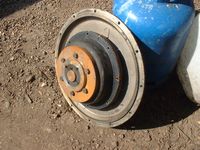 Very heavy duty rubber cush drives by Fenner. Taken fron Generator sets. Taper lock coupling to shaft. Offers
Large Plant Radiators
- suit generators, commercial air cooled engines etc w 0ffers over £75.00
15 x 12 RH prop.
brand new prop, Never been fitted. metric taper £95.00.

18 x 18 3 blade equipoise
1 only - as new - hardly used £200.00 each £350.00 pair
Recoil Starters.
Emergency wind up recoil starters.£295.00 each.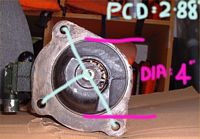 Custom Search
Send us a message via our new
Site
Everthing you need for web Hosting and email
MARINE
Home Page
Boat Sales
Horrors
Engines/Drives
Boat Jumble
Enfield Drives
Pumps
Calor Gas
Hy-Drive Gearboxes
Marine Shop
HIRE
Home Page
Dayboats
Day Hire Booking Form
Dayboat Prices
Dayboat Questions
Dayboat Conditions
Gift Voucher
Payments Shop
GENERAL PAGES
Floods
Moorings/Storage
River Pictures
River Pictures 2
Links
Privacy
Website Terms/Conditions
Contact
For PayPal, please contact us for correct email address to pay - Credit and Debit cards by phone, email or our secure server (Buy Now Button)
Bev,Chris,Kathy,Robin,Jackie & Caroline Shields
Chertsey Meads Marine
The Meads - Chertsey
Surrey ---- KT16 8LN
TEL/FAX: 01932 564699